Puste miejsce przy stole/Empty place at the table
"Puste miejsce przy stole" to nie jest kolejna książka o uchodźcach. To opowieść o tym, jak my sami radzimy sobie z pustym miejscem. To sześć bardzo indywidualnych opowieści o zetknięciu się ze światem, który się zawalił, z uchodźcami, o których tyle już przeczytaliśmy, obejrzeliśmy i usłyszeliśmy, z uchodźcami, których się boimy tak, jak boimy się czasem niezapowiedzianych gości."
"This is not just another book concerning refugees. It's a story about how we cope with emptiness ourselves. The book contains six individual stories about facing the world that has collapsed, facing the refugees we've read, seen and heard so much about. The refugees we're afraid of, just like we're afraid of unexpected guests."
|Cały tekst poniżej/Full text below|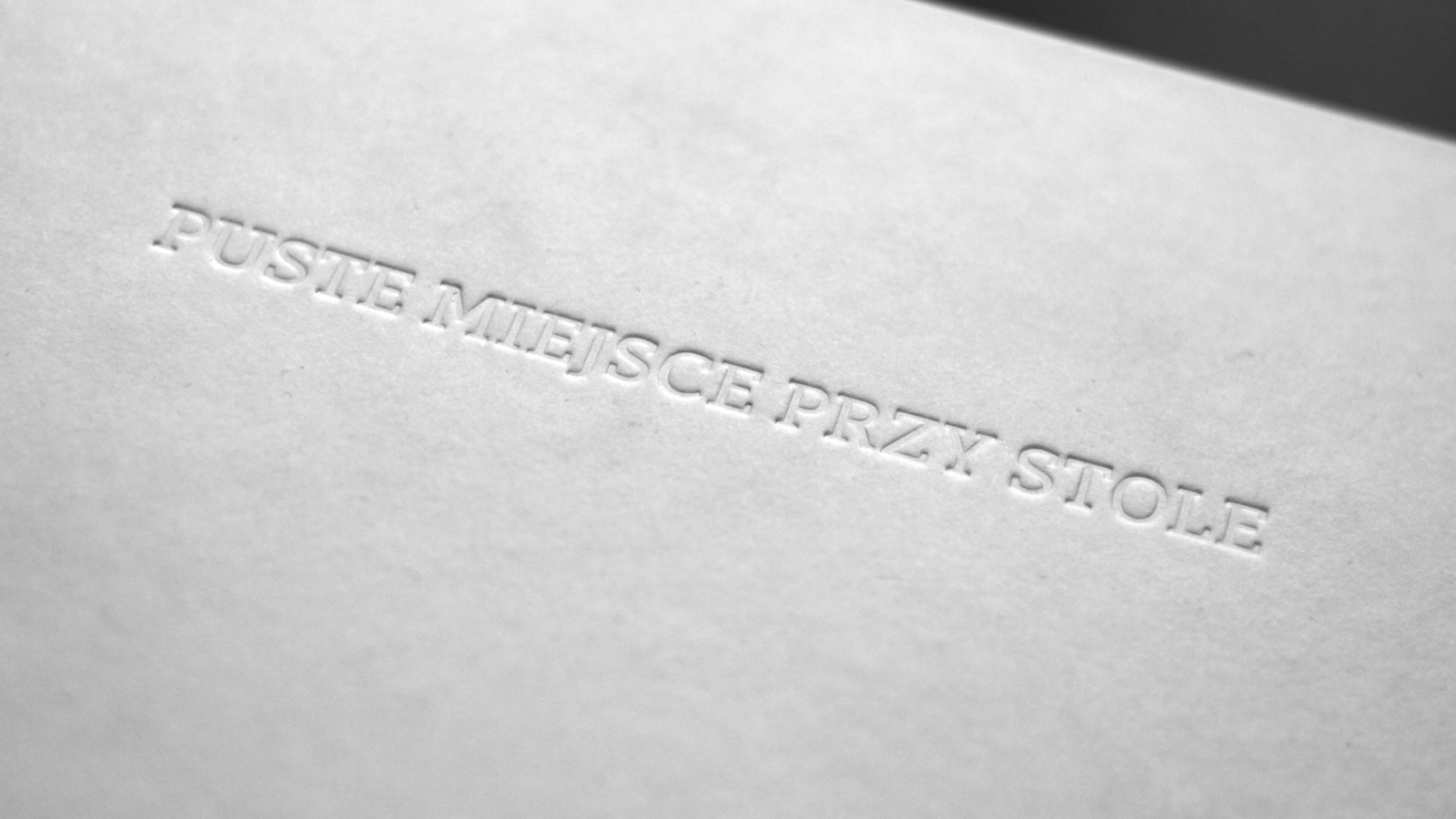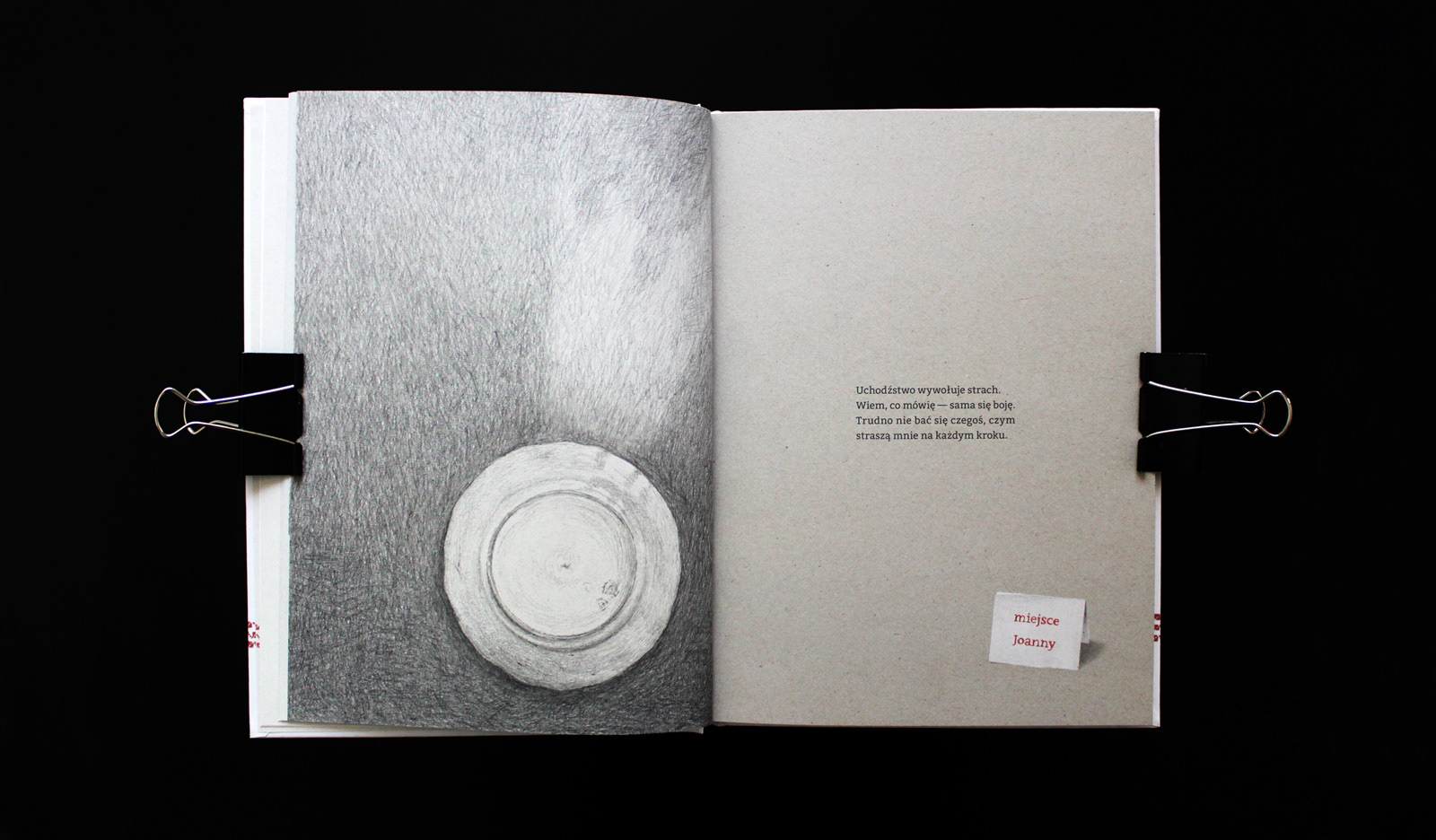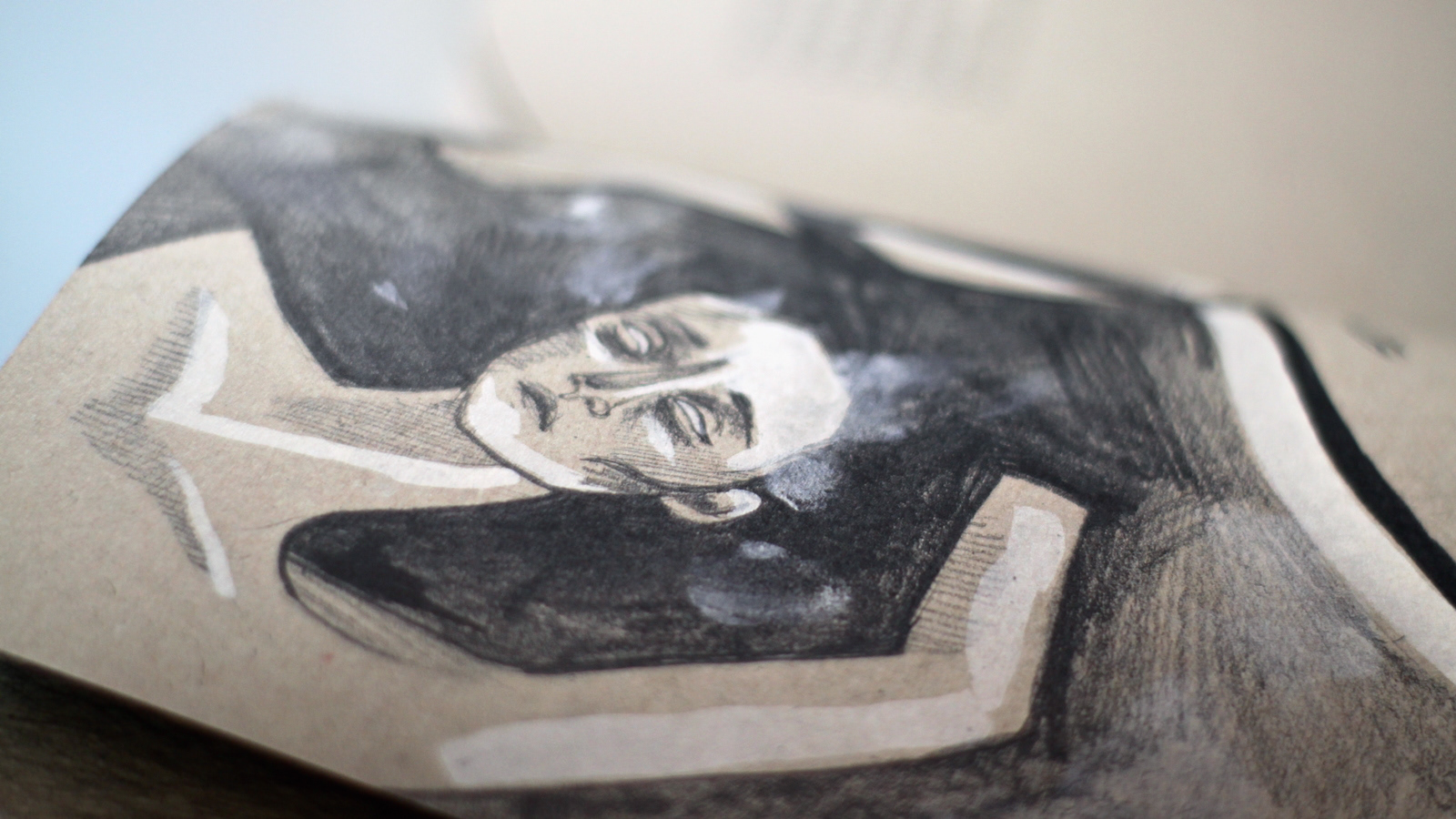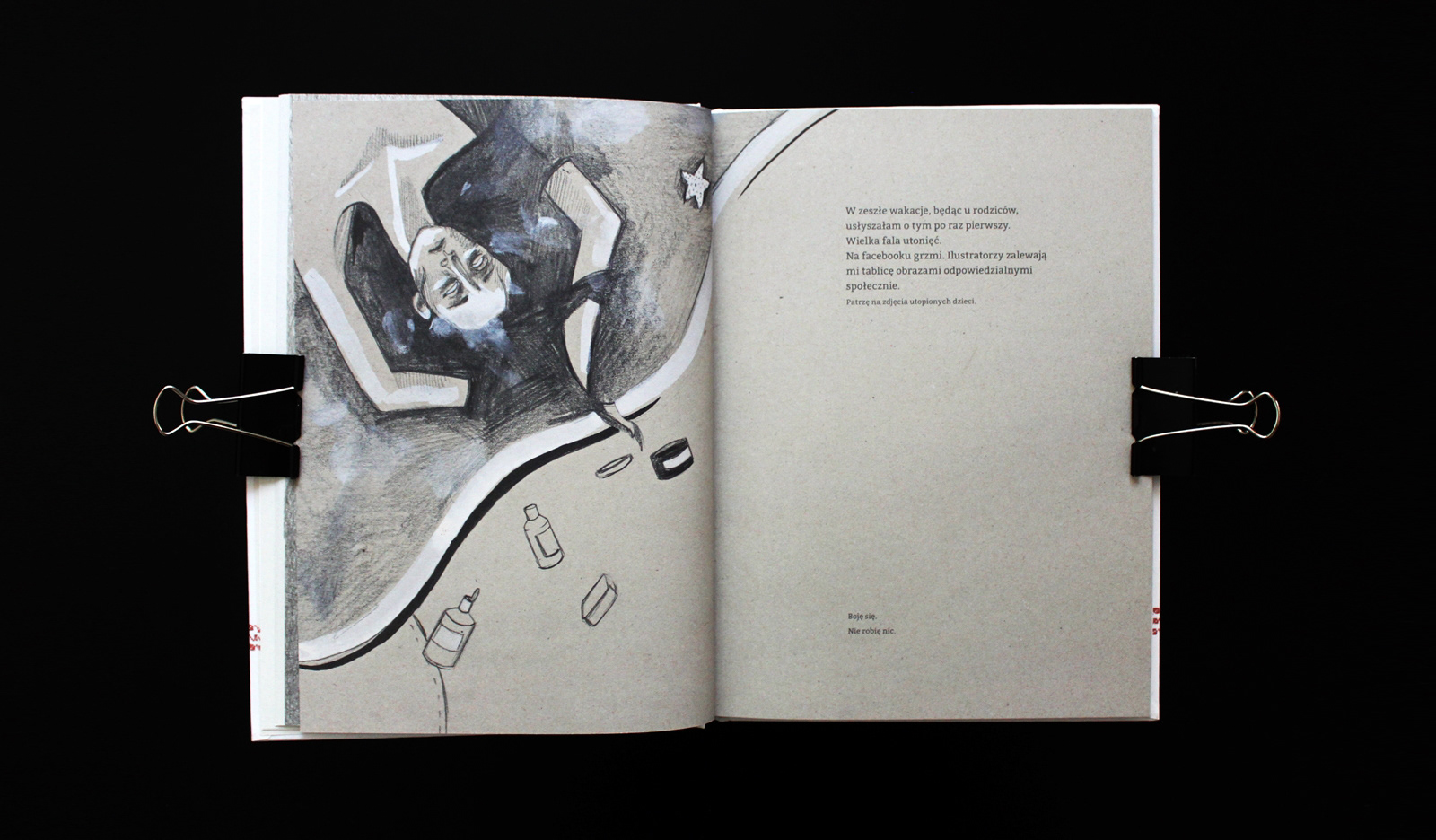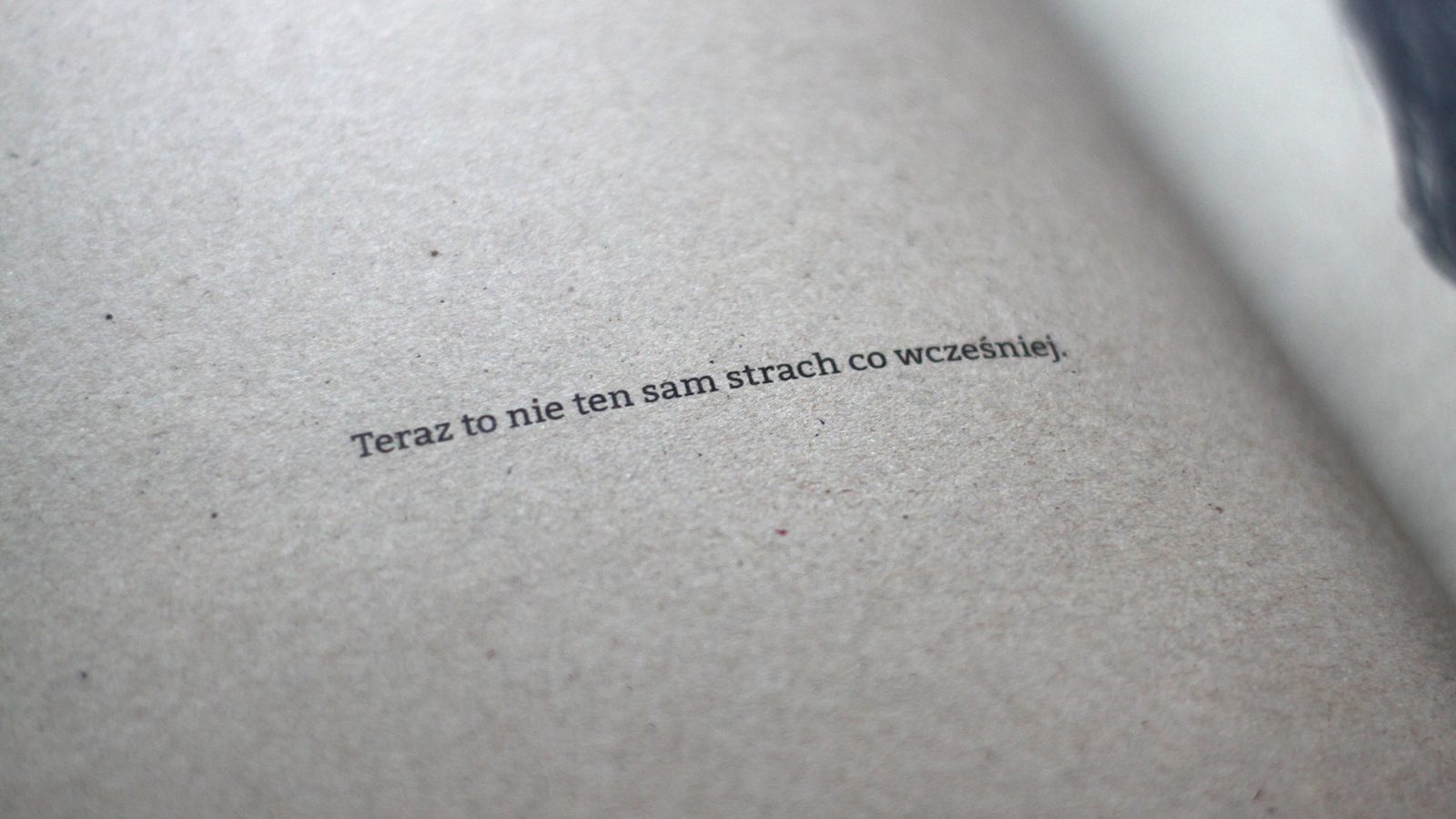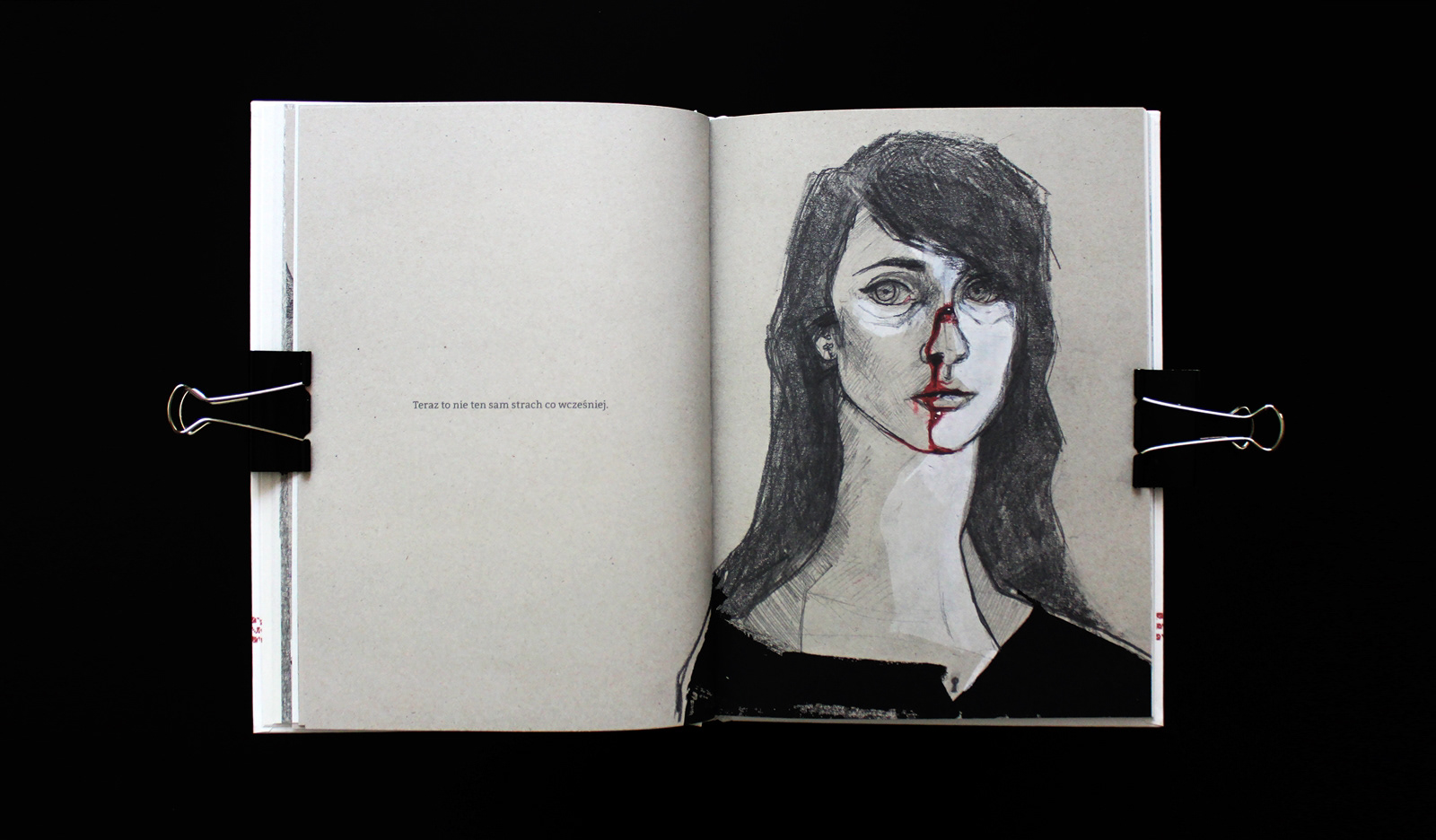 Uchodźstwo wywołuje strach. Wiem, co mówię — sama się boję. 
Trudno nie bać się czegoś, czym straszą mnie na każdym kroku. 
W zeszłe wakacje, będąc u rodziców, usłyszałam o tym po raz pierwszy. 
Wielka fala utonięć. 
Na facebooku grzmi. Ilustratorzy zalewają mi tablicę obrazami odpowiedzialnymi społecznie. 
Patrzę na zdjęcia utopionych dzieci. 
Nie mam telewizora, całe szczęście. 
W radiu mówią raczej o politycznych potyczkach. 
Spędzając weekend w Częstochowie widzę w telewizji hordę młodych mężczyzn - uchodźców. 
Strach.
W końcu wyjeżdżam tam, gdzie nie mam styczności z mediami. 
Zapominam.
Rok później dowiaduję się o warsztatach z książki autorskiej. Temat: Uchodźcy. 
Boję się.
Wysyłam zgłoszenie.
Boję się.
Dostaję się.
Boję się.
Jadę.
Pomiędzy myślami, że na ulicy urwą mi głowę, uczestniczę w warsztatach. 
Daję kilka wywiadów, mówię o strachu, medialnym szumie. O czym innym mogę mówić: teraz, kiedy wiem już więcej, nie boję się samego uchodźstwa, tylko tych, którzy mogą mi wbić kosę w żebro z powodu swoich przekonań. 
Wyświetlają mi się soczyste artykuły na facebooku, czytam komentarze. Dodaję post o warsztatach na mojego fanpejdża. 
Sypią się unlike. Na warsztatach nazywają to selekcją, 
boję się jeszcze bardziej.
Przez cztery tygodnie bez przerwy zastanawiam się, jak mam zrobić te moje 5 rozkładówek + 2 strony towarzyszące. 
Czym wypełnić ten mój nieszczęsny talerzyk, kończący mój osobisty rozdział o pustym miejscu przy stole? 
Mam zrobić coś, o czymś, czego się boję. 
Teraz to nie to ten sam strach co wcześniej.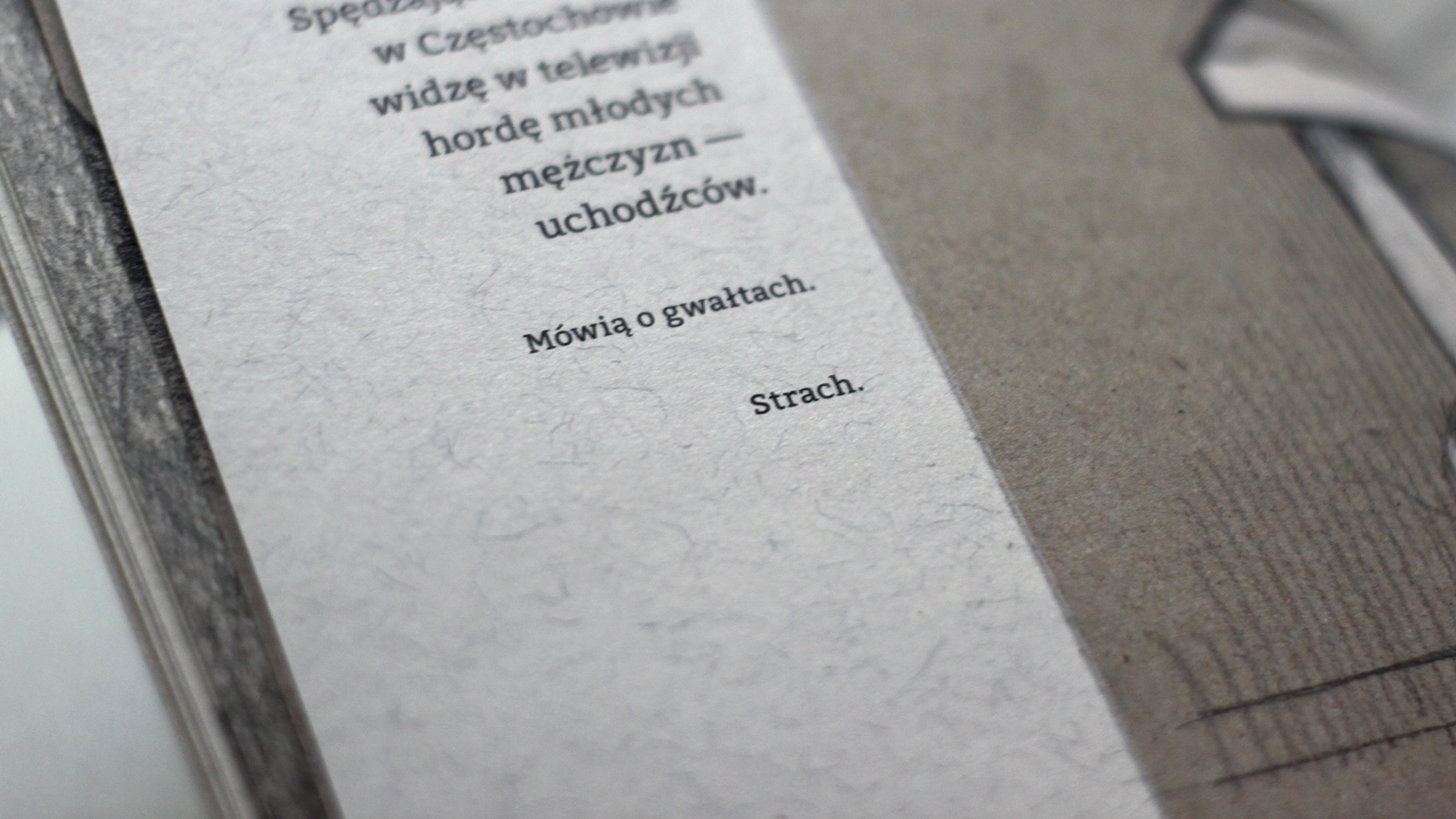 The refugees generate fear.
I know what I am talking about — I am afraid as well.
It is difficult not to be frightened by something they use to threaten you with.
Last holidays, as I was visiting my parents, I heard about it for the first time.
The enormous drowning incidents occurance.
Facebook roars with entires. The illustrators pour the socially responsible pictures over my facebook homepage.
I look at the pictures of drowned kids.
I am terrified – I do nothing 
I don't own a TV set, luckily.
The radio focuses rather on reporting some political clashes.
Spending my weekend in Czestochowa I watch on TV a horde of young men – refugees.
I finally leave for a place with no access to mass media.
One year later I learn about the author's book writing workshop.
I am afraid.

I send my application.

I am afraid.
 I am accepted. I am frightened. I go.
Among my thoughts of the risk of getting decapitated in the street , I attend the workshop. My eyes are opening.
I give some interviews, I speak about fear, media hype.
What else can I say to others, now that I know more, I am no longer afraid of the refugeeism itself, but rather of the people who can stab one in the back for on the grounds of their beliefs.
Juicy articles are being published on facebook, I read the comments.
I post the workshop information on my fanpage. The "unlikes" are pouring.
At  the workshop they call it 'the selection'.
I spend full 4 weeks on thinking about the layout of my book's 5 facing and 2 accomapying pages.
What can this misfortunate plate, which is to finish my personal empty place at the table chapter, be filled with?
I need to create a certain something about the thing I am afraid of.
This time it is a different kind of fear.
Translation by Joanna Malinkiewicz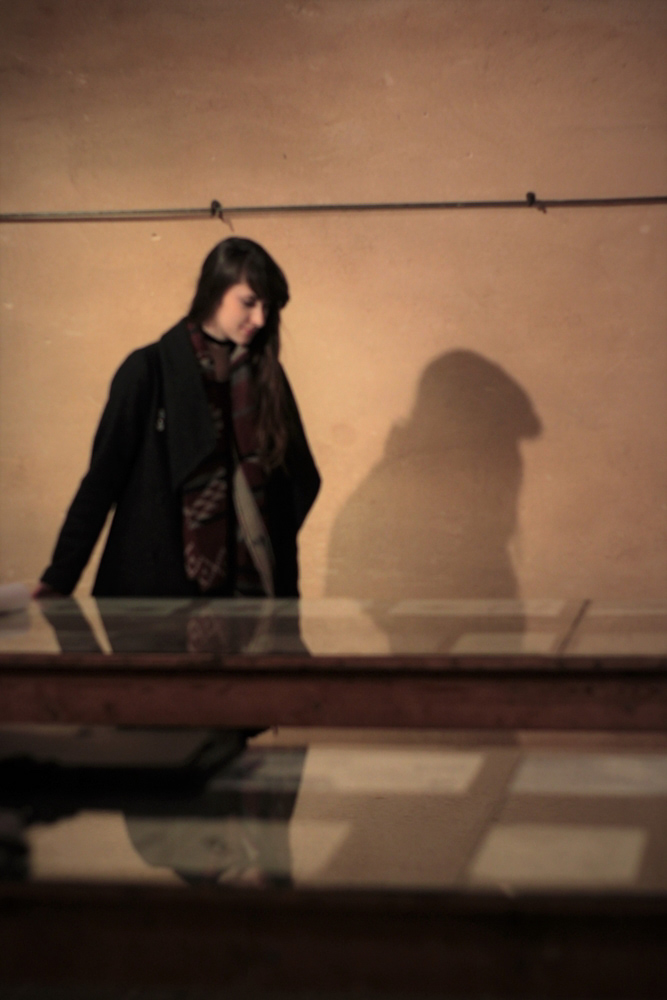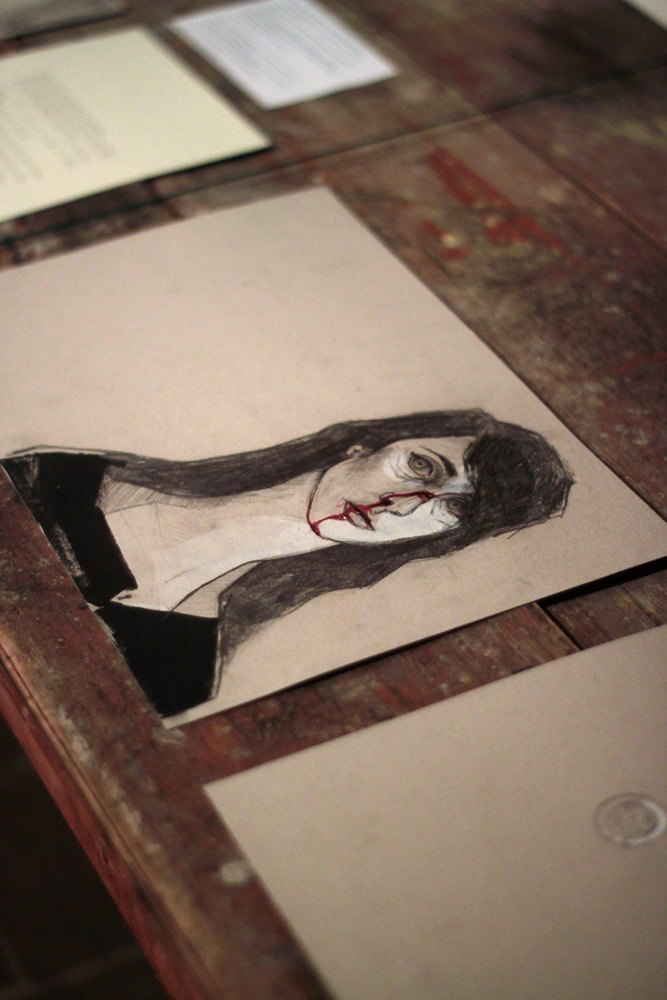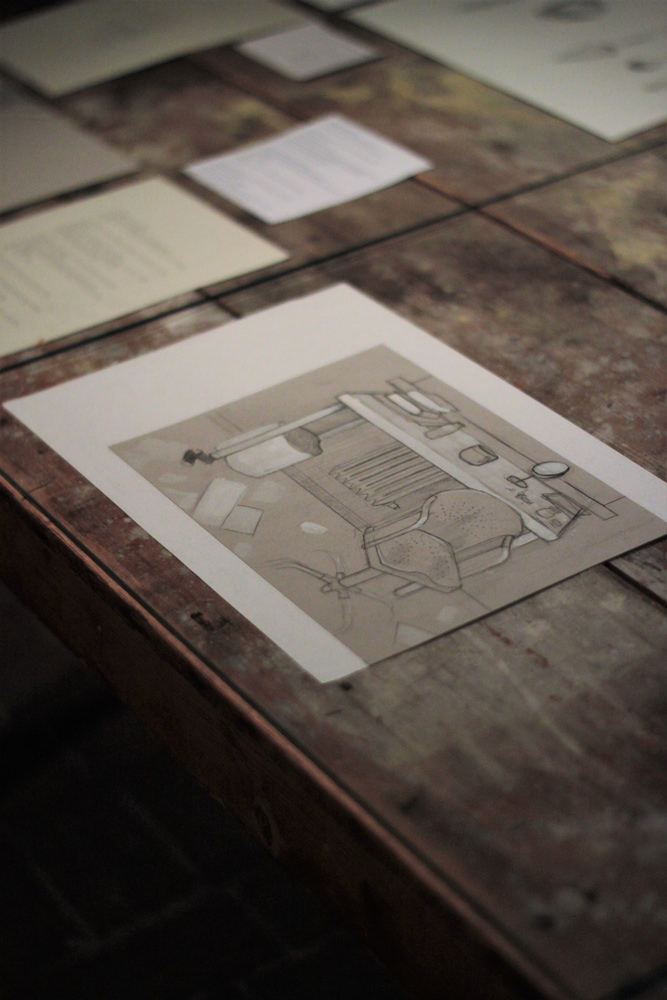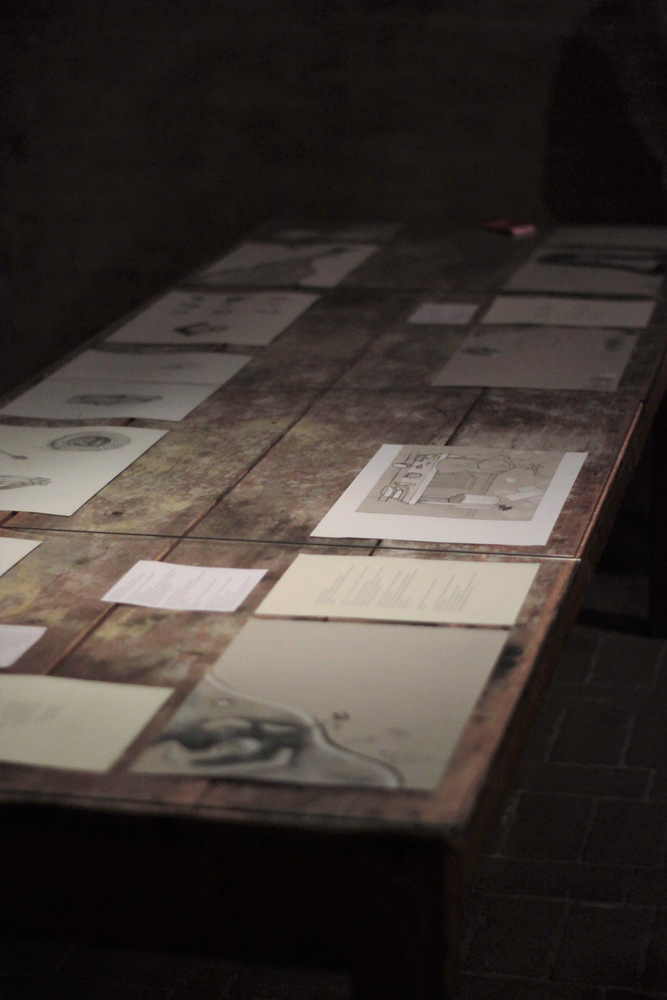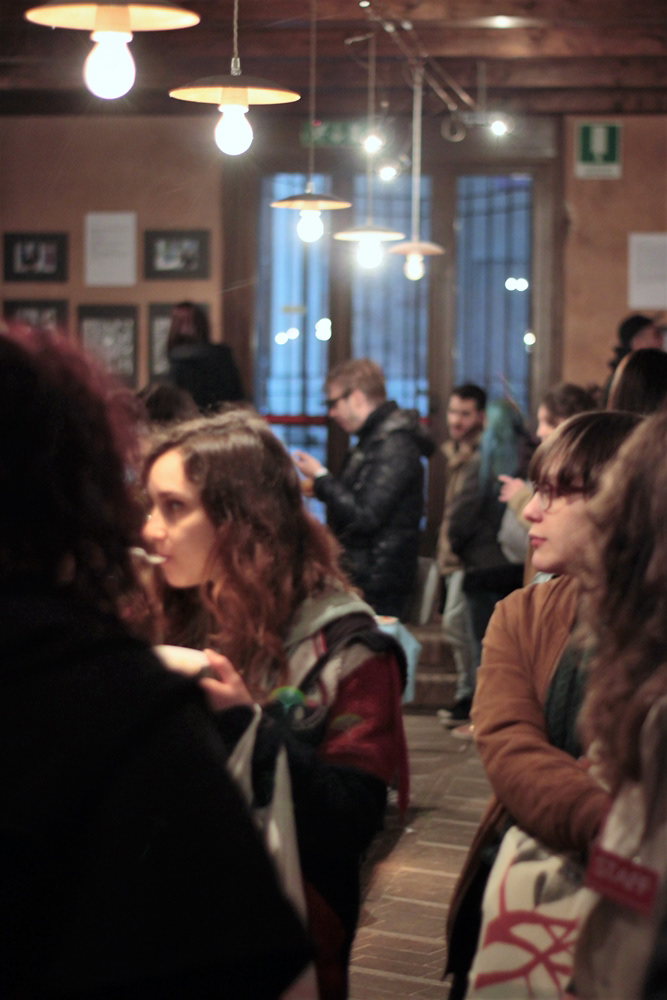 Promoter: Dom Słów Lublin, 
Brama Grodzka – Teatr NN
Mentors: Joanna Concjeo, Iwona Chmielewska, 
Magdalena Sikorska, Justyna Bargielska
Cover illustration: Joanna Concejo
Editorial design: Matylda Mazur-Wasylkowska
Author of this chapter: Joanna Ambroz Lewandowska
Issued copies: 500
195mm×265mm
2016
Książka brała udział w wystawie na Festiwalu Ratata 2017, Macerata, Włochy.
The book was exhibited on Ratata Festival 2017 in Macerata, Italia.